Agenda
7th International Congress on Neuropathic Pain (NeuPSIG 2019)
Londen, 9-11 mei 2019
About the International Congress on Neuropathic Pain
The International Congress on Neuropathic Pain is an international forum that provides the latest research and developments in understanding the mechanisms, assessment, prevention and treatment of neuropathic pain. The bi-annual International Congress is our flagship effort in advancing this mission. We hope you will join us in this unique opportunity to meet researchers, clinicians, and others from a wide range of disciplines, countries and backgrounds, disseminating and learning about the latest developments in the field.
Reasons to Attend
Learn the latest advances in neuropathic pain from current basic science, clinical, and translational research.

Position yourself as an expert by incorporating new knowledge into your practice from this dynamic and educational environment.

Network with leaders in the field at the largest multidisciplinary gathering of pain clinicians and researchers from all over the world.

Discover, explore, and share the ever-changing advances in the neuropathic pain medicine at the International Congress on Neuropathic Pain.

lees verder door te klikken op onderstaande foto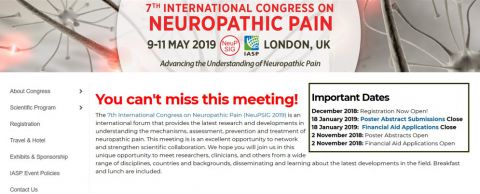 11th Congres of the European Pain Federation EFIC
Valencia, 4-7 Sept 2019
Pain in Europe XI
What is the European Pain Federation?
The European Pain Federation, EFIC®, is a multidisciplinary professional organisation in the field of pain research and medicine. Established in 1993, it combines the expertise and experience of 37 European Pain Chapters, representing more than 20.000 healthcare professionals, such as physicians, basic researchers, nurses, physiotherapists, psychologists and other healthcare professionals across Europe, who dedicate themselves to the phenomena of acute and chronic pain syndromes.
The congresses of the European Pain Federation give access to leading lecturers and a scientific programme consisting of the latest evidence-based and best-practice-based medicine in all relevant disciplines in the field of pain management.
The 11th Congress of the European Pain Federation, Pain in Europe XI, will take place in the Spanish town of Valencia, from 4-7 September 2019. This major biennial gathering brings together the most recognised experts in the field of pain medicine to exchange knowledge, ideas and the latest advances in the field.
lees verder door te klikken op onderstaande foto